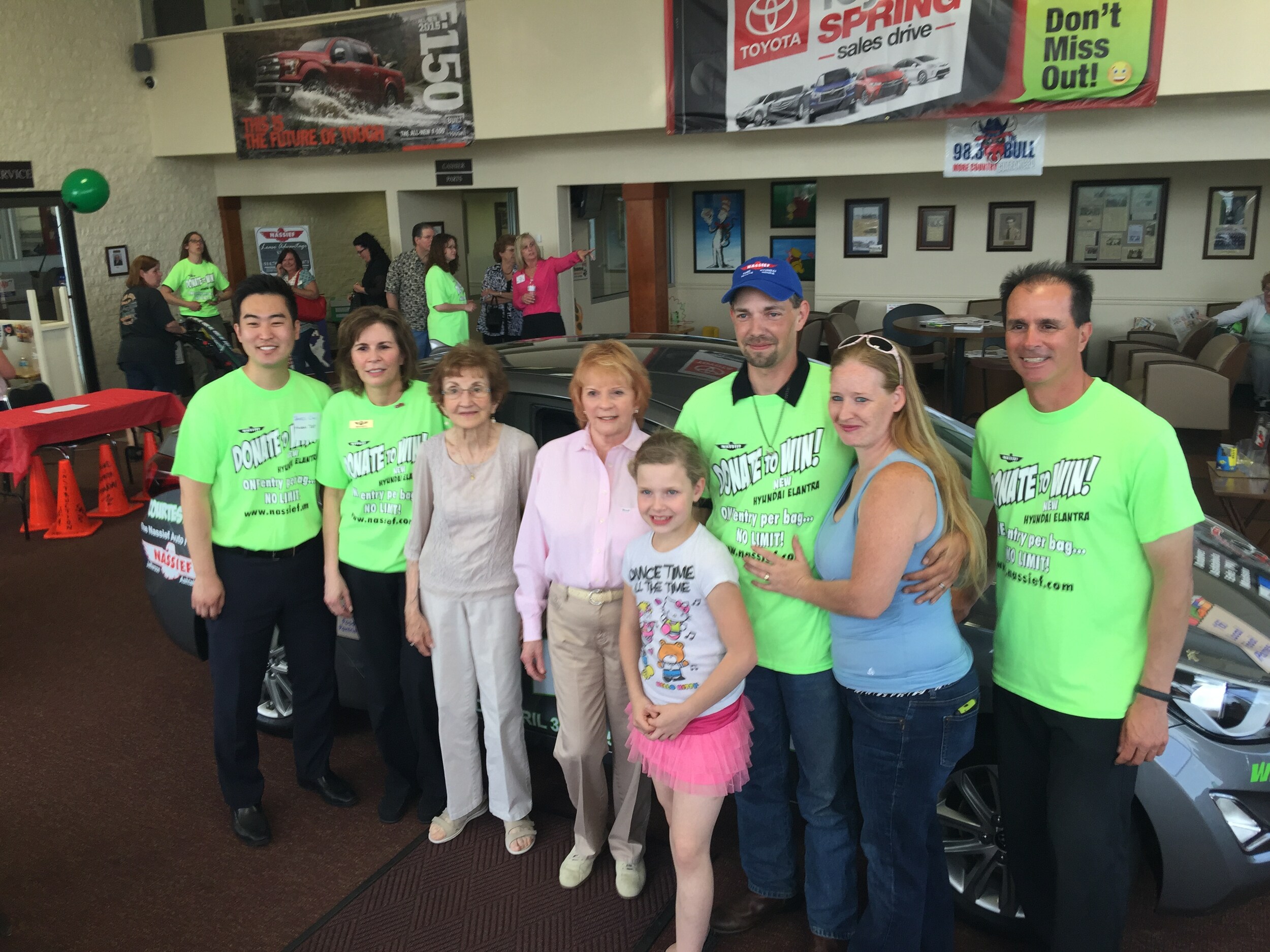 Adam Harju, our 2015 Donate to Win Winner
By WARREN DILLAWAY -Staff Writer-Star Beacon
JEFFERSON TOWNSHIP - Thirteen people took their special key, placed it in the ignition and got nothing on Saturday morning before Adam Harju heard the magic sound of the engine rev.
That sound meant Harju had just won a brand new Hyundai for his wife, Anna.
The Donate to Win program, sponsored by Nassief Auto Group, concluded with 18 finalists prepared to try their keys in the engine.
"I didn't think in a million years it would start. I'm flabbergasted," Harju said.
His family recently moved from Jefferson to Ashtabula and the car will come in handy for his wife as she transports children to and from school and other activities, he said.
While many contestants managed weak smiles trying to mask their disappointment, officials from three area organizations that benefitted from all the donations provided by area residents said they had nothing but smiles.
The Donate to Win program involved a chance to win the car for every bag or box of donations given to Goodwill, Country Neighbor Food Bank or the Ashtabula County Animal Protective League. The program occurred during the first four months of year when giving is usually slow for all three groups.
"We had 44,000 (bags)," said Goodwill Marketing Director Blake Johnston.
This year's donations exceeded last year by 2,000 bags, providing a bridge to keep clients working throughout the year when donations slow after the Christmas season, he said.
Country Neighbor also experienced a growth in donations this year - from 3,320 pounds of food in 2014 to 6,242 pounds in 2015.
"We actually increased this year by 88 percent," said Country Neighbor Executive Director Barbara Klingensmith.
The donations helped create 7,940 meals for hungry people, Klingensmith said.
Marybeth Nassief, owner of the Jefferson dealership, said she was happy with the increase of 5,100 bags over last year and even more excited about challenging others to get involve in the community.
"Our goal is to supply others an opportunity to give," she said.
Todd Nassief, owner of the Ashtabula dealership, echoed those sentiments.
"This is a four-month contest, but we hope it spills over the other eight months," he said.
Tammy Koestner, president of the Ashtabula County Animal Protective League, said people provided food, blankets and cleaning supplies.
"It's a great help to us," she said Tammy Koestner.
Winner Harju said he thinks the program is a great idea.

"It's awesome," he said