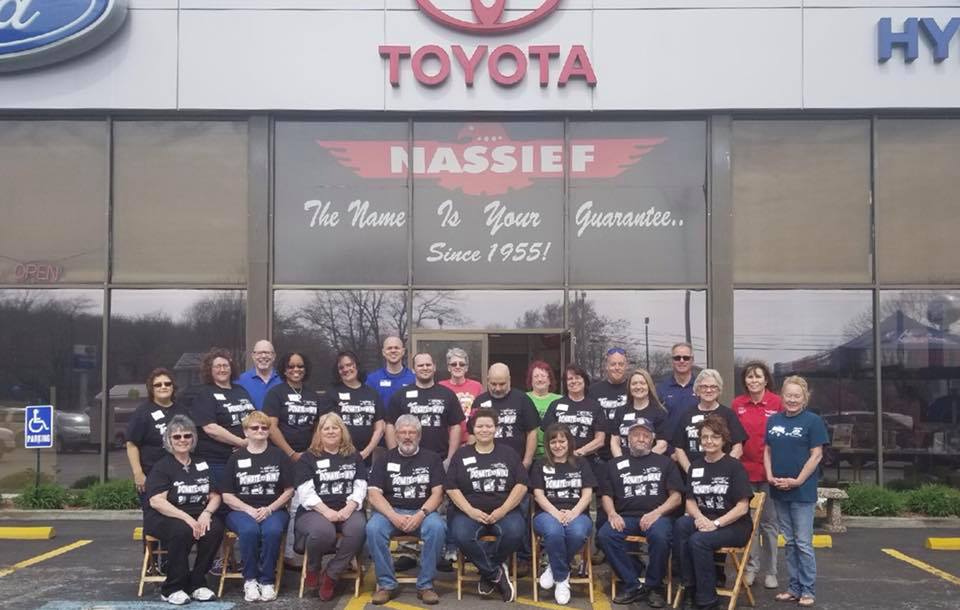 JEFFERSON - Tears streamed down the face of Kathy Konzel after her key started a 2018 Toyota Corolla on Saturday morning winning the 6th annual Donate to Win sponsored by Nassief Auto Group.
"There are no words. I am so overwhelmed," she said as her husband and children gathered around her in a crowded Nassief Ford-Toyota-Hyundai showroom. 
"We have an old car with over 100,000 miles and it's about to die," she said while wiping tears from her eyes.
Konzel said her son Nathan suggested a number that helped in winning the car and her son Alex came running to the window to talk to his mother in her time of joy.
Kozel was the 16th of 17 contestants that earned the opportunity to sit in the driver's seat of the car and try to start the car as David Miller from "The Bull" radio station narrated the event live on the radio.
After lining up the contestants, Maribeth Nassief, co-owner with brother Todd Nassief, started off the proceedings. "Let's get things on the road. It is game time," she said.
The event helps raise funds for Goodwill Industries, the Ashtabula County Animal Protective League and the Ashtabula County Food Bank. Contestants earn tickets for each bag of donations given to the organizations between January and April with a drawing to get down to 17 competitors leading into Saturday's drawing.
Nassief said there were 54,856 bags of donations to the three organizations which was a 4 percent increase over last year's donations.
Representatives of each organization thanked the contestants and the Nassief
family for their generosity in making the event possible. "I just want to thank the Nassief Auto Family and thank you to the other two charities," said Zach Knight, marketing director for Goodwill Industries.
"I want to thank the community for everything they have done," said APL Director Kathi Sorafino.
Country Neighbor officials said there were 6,200 pounds of food donated during the four-month event.
"The fact that it (the event) continues
to grow year after year is why we do it,"
Todd Nassief said prior to the event. He said the customers of both
dealerships make the event possible every year.