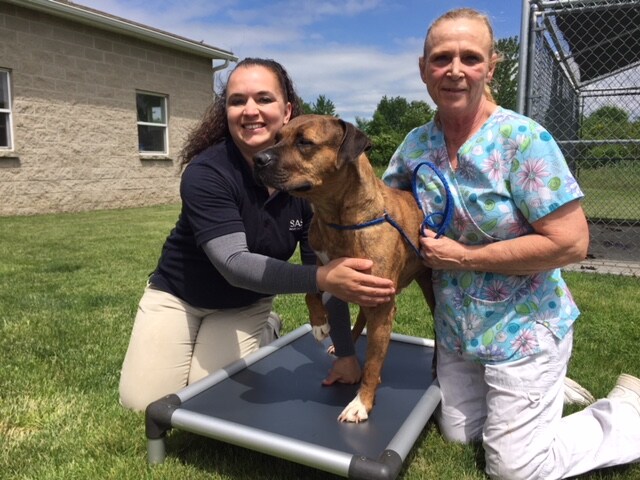 Kristy Niewiadomski and Sue Druktenis, long time APL Staff members, are so happy to let Dixon try out his new bed, donated by the Nassief Auto Family!
Dixon is 5 years old, fun loving, full of playful energy and eagerly awaiting to meet his forever family at the Animal Protective League Adoption Center in North Kingsville.
The APL  received  59 elevated Kuranda dog beds this past Tuesday, courtesy of the Nassief Auto Family!
EVERY dog  has a comfortable place to sleep now while waiting for their new family to bring them to their forever home!
For those kind people asking how they can help, the APL currently is in URGENT NEED of wet and dry Cat Food and Cat Litter, along with cleaning supplies.
Our giving community is much appreciated for all they do to support our local orphaned cats and dogs.
Please stop out and meet the APL's new Executive Director, Kathi Serafino!  Kathi and the rest of the staff would love to help you find your perfect new family member!
Check out the many worthy adoptable cats and dogs at www.acapl.org or stop out to 5970 Green Road on Tuesday, Thursday, Friday or Saturday from 1pm-6pm and Sundays from 1pm-5pm, or call 440-224-1222.
Another heartfelt THANK YOU for adopting your next pet and for your continued support!